African American Heritage in Washington State
African American explorers, settlers, and urban pioneers forged a trail and left legacies that contribute to the vitality of this region's past, present, and future. A rich history illuminates the pushes and pulls of African American migration to the Northwest and sets the tone for our King County tour through Seattle's historically Black community, produced in partnership with the Black Heritage Society of Washington State.
The waypoints are categorized in four themes that weave together a story significant to community tradition: Legacy, Arts and Culture, Spirituality and Community, and Call to Action.
The Explorers      
Presence of Black explorers in the Northwest is documented as early as 1788 with the short-lived encounter of Marcus Lopez who arrived aboard The Lady Washington as a crew member. Later, in 1804 to 1806, the diaries of the Lewis and Clark expedition provide firsthand accounts and describe the resourcefulness of York, a Black manservant who accompanied the party as they traversed the territory that we know today as Washington State. Though not well-documented, it is safe to assume that other Black explorers came to the Northwest as voyageurs, trappers, or adventure seekers.
The Settlers
During the mid-1800s, wide open spaces and largely unstructured government held great appeal to many pioneers who looked to take advantage of potential homesteading opportunities in the West. Black people were ready and willing to undertake the hardships of relocating to escape dreadful and deadly conditions in the South. The West was promoted as the promised land, a place to "breathe free air."
Black pioneer George Washington Bush arrived in the Oregon Territory with his family in 1844 and quickly discovered that the anti-Black laws were repressive. He and members of his wagon train headed north of the Columbia River to settle an area later named Bush Prairie (near present-day Tumwater).
Coincidentally, another Black man by the name of George Washington arrived in the territory in 1850. Washington, restricted by law from purchasing land, was deeded a plot of land by the white couple who raised and adopted him. A few years later, they deeded Washington another 640 acres. Anticipating the arrival of the Northern Pacific Railroad, he platted his land and formed the town of Centerville (now known as Centralia).
Both men were essential to the prosperity of their communities, to the point that other Black people who heard of their success began to settle nearby and push toward Seattle as Washington achieved statehood in 1889.
The Urban Pioneers
While Black people made modest livelihoods at farming and ranching, others were drawn to an urban lifestyle. One of the earliest known Black entrepreneurs was Manual Lopes. He arrived in Seattle in 1852, the same year that King County was created. Lopes started a barbering business, complete with the first barber chair brought to Seattle. He also operated a restaurant in the same building on First Avenue in today's Pioneer Square District. In 1860, the census listed Lopes as the sole Black resident of King County.
Soon after the 1860 census, William Grose and his wife arrived in Seattle. Grose was a savvy businessman, and within a few years he opened an inn and restaurant in Pioneer Square. Within 20 years, Grose's wealth and popularity grew, as did the population of Black people in King County. According to the 1880 census, that number totaled 22. In 1883, Grose purchased 12 acres of land from Henry Yesler for $1,000 in gold—rolling farmland that is now the Madison Valley neighborhood in Seattle's Central District.
As Seattle was booming, the Great Fire of 1889 burned nearly all of downtown to the ground. A new business hub emerged. The northwest terminus of the railroad had been moved to Seattle in 1895, and railroads expanded. Opportunities opened up for Black people to work as waiters, maids, porters, barbers, and laborers. Some pursued professions as attorneys, publishers, or businesspeople. Black families were populating Seattle's Central District and purchasing land in the wooded, undeveloped areas outside of Seattle. At the turn of the century, Black people in Seattle and King County understood the advantages and limitations they faced.
The Great Migration Comes West
By 1940, the Black population had grown tenfold, from 400 people in 1900 to 3,789. Pushes from the Jim Crow South and pulls by war industry jobs and relocation of servicemen to Northwest military bases created common migration patterns.
Black people resided in Central Area neighborhoods where they found housing, businesses targeted to their needs, widely available recreation, and churches welcoming them with open arms. While Seattle and surrounding communities were steps above the conditions from which many Blacks had moved, it was not the liberal haven that some had expected. They faced restrictive racial covenants in housing markets, and discriminatory policies were common in employment and higher education.
As World War II ended, socioeconomic and civil rights agendas tested the Seattle area's acceptance of full Black citizenship. A swell emerged that set the stage for how the Black community would shape its growing legacy through commonality, tenacity,  and leadership. Over the next 50 years, the blossoming Black culture, political movements, and community organizations would leave a footprint within one of Seattle's most historic communities.
Washington State African American history is much more than what is shared here through 18 Seattle and King County waypoints. The African American heritage sites tour asserts an appreciation for sense of place and serves to ignite curiosity to dig deeper into Washington State Black history that is without a doubt everyone's history.
---
This project is made possible though the partnership of:
Images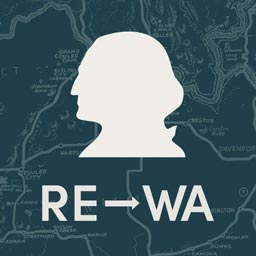 Download the Revisting Washington App
Visit this website on your mobile device or learn more.