Large, well-cultivated farms alternate with stretches of uninhabited range; at widely spaced intervals small towns, ganglia of settlement, are strung along the highway. Travel through large, well-cultivated farms alternating with stretches of uninhabited range and dots of small towns.
This leg of the tour has 15 waypoints and 4 side trip tours
This Lincoln County seat, west of Spokane, is wheat country. Precipitation is light, but bountiful crops are the rule, for... Visit
Settled in 1886 by German immigrants who came from Russia, this is a wheat town; as of 1941, it shipped... Visit
All waypoints on this leg
★ Mainstreet Community
There are no side trips along this tour leg.
This tour has 1 leg, 15 waypoints, 4 side trips, and covers 158 miles.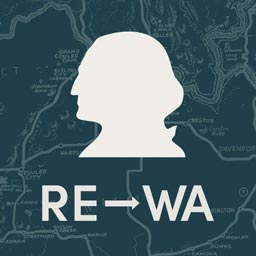 Download the Revisting Washington App
Visit this website on your mobile device or learn more.