This tour extends between Laurier and Spokane through narrow mountain valleys in the rugged Colville National Forest crossing the Columbia River and following the twisting Kettle River.
This leg of the tour has 23 waypoints and 3 side trip tours
A group of white-painted houses, dominated by the customhouse, a large structure in Colonial style. Here are the personnel of... Visit
Kettle Falls, on the Columbia River, is below the mouth of the Kettle River. It was an important salmon fishing... Visit
This 160 mile side trip follows Sherman Pass Scenic Byway. The side trip connects with Tour 7. The round trip to Republic is 2 hours.
This 6 mile side trip leads out to the former site of Fort Colville where a heritage marker identifies the location.
This 22 mile side trip extends out to a monument marking the site of the former 1838 Tshimakain Mission.
There are no side trips along this tour leg.
This tour extends between Spokane and Pasco through coulees and through wheat fields along the flat open landscape of the Palouse.
This leg of the tour has 15 waypoints and 2 side trip tours
All waypoints on this leg
★ Mainstreet Community
The 18 mile side trip zigzags through a bunch-grass and farming area, occasionally spotted with clumps of bull pine out to Silver and Medical lakes.
This 60 mile side trip cuts out through the narrow Washtucna Coulee to Washtucna.
There are no side trips along this tour leg.
This tour has 2 legs, 38 waypoints, 2 side trips, and covers 265 miles.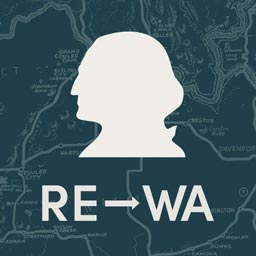 Download the Revisting Washington App
Visit this website on your mobile device or learn more.